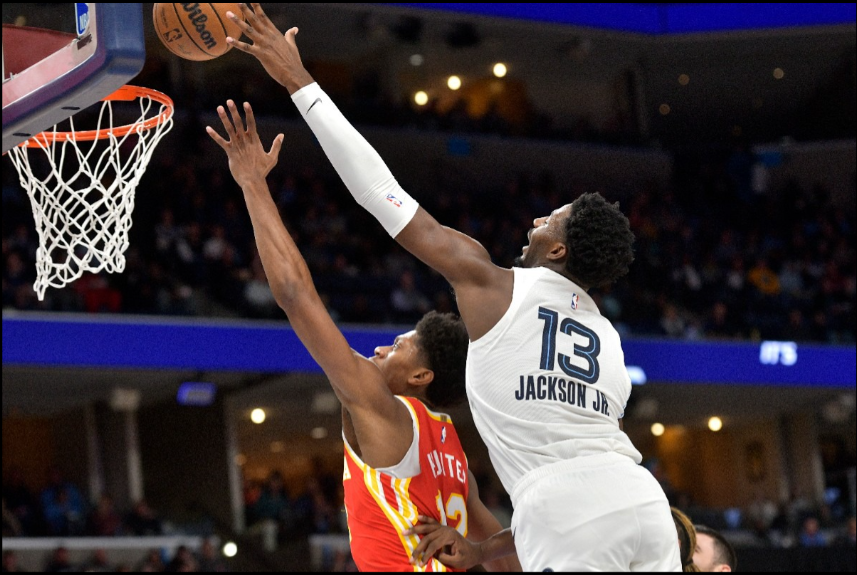 10 years after Marc Gasol became the first Memphis Grizzly to win Defensive Player of the Yaer, Jaren Jackson Jr. became the second.
The award was first presented in 1982. Dikembe Mutombo won it four times and Ben Wallace also won it four times. Rudy Gobert and Dwight Howard each won it three times. Dennis Rodman won it in back to back seasons, and Kawhi Leonard remains the only other active play to have won the award twice. Eight perimeter players have won the award over the years, including Marcus Smart last year.
In winning this year, Jaren becomes only the 25th player in NBA history to win the award. 
And perhaps as importantly, only Alonzo Mourning won the award and averaged more points than Jaren. 
Only Hakeem the Dream and Kawhi had a higher 3 point shooting percentage. 
And Jaren is the second youngest winner
The League is Changing
It's worth spending time to reflect on this milestone in Grizzlies history as we watch a 37 year old Chris Paul square off against a 34 year old Kevin Durant. 
There were years where the Grit and Grind Grizzlies of old squared off with both of these guys in different rounds of the same playoffs! 
But Z-Bo is retired. Marc plays overseas. Tony Allen is no longer in the league. Only our beloved Mike Conley is left, making a mediocre Wolves team better.
The game is changing. Kevin Durant is not as old as CP3, but neither match the Grizzlies current foe Lebron James at 38 years aged. The game is changing, and in five years its likely none of these guys play in the NBA – much less the playoffs. 
But Ja Morant? In five years he will be 28 years old. Jaren Jackson Jr., too. And the elder statesman Desmond Bane? He will be 29. 
The league is changing right before our eyes. And the Grizzlies got next. 
It's a Bummer
Ja's hand injury is a bummer. The discussions about banning the charge from the game or widening the charge circle that were prompted by injuries to Ja and Giannis on charges? Those are yet another sign the game is changing. Morant, both like and unlike Curry, has shifted the way the game is played in an era of space and pace. His pace is locomotive, it's transgalatic. Even the rocket powered D'Aaron Fox can't match Ja's pace. And the inevitable collisions that occur, whether with another player or in this case another player AND the ground…it's a part of this high flying era in the league. 
But it's prompting widespread discussion that is likely to gain some traction over the offseason about literally changing the configuration of the court. People want to watch Ja take off, and they want to watch it over and over again. It's worth changing the rules to make it a little easier to enjoy those transcendent moments.
The league is changing, indeed, and the Ja Morant and the Grizzlies are a part of that change.
You can see it the last dying gasps of a dynasty, as those players stomp their feet in frustration…often with another player beneath them.
But this year? This year might be a bad hand for the Grizzlies. They might fold early.  
Of Big Men and Injuries
Noone really knows what's up with Steven Adams. He is shooting jumpers, gently banging with his teammates on the practice court as he works to educate both Jaren and Xavier Tillman. But he is not expected to play in the playoffs.
It's notable, and not only because Anthony Davis is a monster whom the Grizzlies seem unpreapred to stop. More on that in a minute… 
Steve-o's absence is notable because, when you look at the other series taking place now, many of the other teams have real big men squaring off against each other. D'Andre Ayton and Ivica Zubac. Bam Adebayo and Giannis. Nic Claxton and Joel Embiid. 
Heck, some series even have two big guys: the Cavs twin towers of Evan Mobley and Jarret Allen squaring off against the offensive rebounding machine of Mitchell Robinson. Or Jokic dueling with Rudy Gobert and Karl Anthony Towns.  
The Grizzlies have the sure fire 7 footer Jaren Jackson down low, but for reasons that have been well documented they are not inclined to have the unicorn guarding Anthony Davis straight up. Instead, they have the vastly undersized Xavier Tillman at 6' 7" (that is one inch taller than Dillon Brooks for those keeping track…) trying to body up one of the best big men of this generation.  
It's tough. And there is no doubt in my mind, and likely no doubt in any other closer observers' minds, that simply having Steven Adams there to box out Anthony Davis could in and of itself swing this series. 
It literally could be that simple. Box out Anthony Davis and the Grizzlies could win the series. You get more offensive put backs. You get out and run when you rebound on defense, boosting your second chance points. You have an impenetrable turnstile for Ja and Des to use as they get into the lane. Jaren roams and blocks more shots.  
Steven Adams is literally the key to the entire way this team plays.
But Steve-o is out. And he is unlikely to come back this year. That's a bummer, to be sure. 
AND – Brandon Clarke is out. It's easy to see how his length and athleticism helps the Grizzlies in this series. His ability to rise up at the free throw line and shoot over the outstretched arms of Davis would be clutch. His switchable defense on Rui Hachimura and Austin Reaves and D'Angelo Russell and Dennis Schroder and every guard that seems likely to have at least one good night in this series…that is a huge loss.   
All together, my friends, this is a huge bummer. 
The Future is Blinding
But the long term trajectory of this team? After the emergence of JJJ?
To quote Clay Davis from The Wire "sheeeeeeeeeeeeeeeettttttt."
Jaren Jackson Jr. could well end up being the Greatest Grizzly of all time. He is only now just putting the pieces together of his offensive game, and it looks REAL nice. He is the second youngest player of all time to win DPOY.
And the fouls? Jaren had only one foul going into the fourth quarter last night. The playoffs are physical, and the bet here is that some of the ticky tack fouls Jaren gets in the regular season won't  be an issue in the post season. 
And, as importantly, he is not taking dumb fouls.
Jaren could be Memphis' big fundamental. He could be Memphis' Dream. He is for sure Memphis' unicorn.  
And all of that means much more than whatever happens in this playoff series.
And I don't say that because things are looking grim. I am actually not pessimistic about this series.
I am excited to see the way the offense hums with Tyus at the point. Des will get downhill more often, which will make his 3 point shots that much easier. They will find Jaren consistently in the post and on trailing threes. I think Kennard will get better looks and will take the good looks he gets. I think Roddy and Konchar will play a key role in this series.  
And I think by Game 5, which is a week away, Ja is feeling quite a bit better.
I think the Grizzlies get back to their identity on defense. They clean up the transition defense, make life hard for Reaves and Hachimura. I think the Grizzlies make this a series.
Then, who knows? 3 weeks from now, in the middle of the second round, does Steve-o come back?
It's all possible, if not all probable.
But it doesn't really matter. What matters is that the Grizzlies got next, and this next is gonna be real good. Shai, D'Aaron, Luka, Darius, Jaren, Ja…the future of the league, and of these Grizzlies, is radiant.